30/06/2005
DO WHAT THOU WILT SHALL BE THE WHOLE OF THE LAW.
CD is released!
LOVE IS THE LAW,
LOVE UNDER WILL.
AL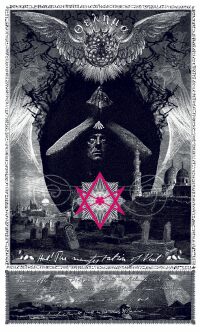 100th
Anniversary
Compilation of an exclusive and unreleased tracks
dedicated to Aiwass & New Aeon &
The Book Of The Law
technically called
Liber AL vel Legis
sub figura
CCXX
as delivered by
XCIII = 418
to
DCLXVI
that was dictated in Cairo
on April 8th-10th in the year 1904.
Tracklist:
1 Disc
1-01 HEXENTANZ: Oh, Blessed Beast
1-02 MUSTERION: Baphomet, The Magus, The Fool (Fo-Hi),
The Voyager
1-03 DUPARC: A Rebours
1-04 ENCRYPTION: Secret Flame
1-05 UNTO ASHES: Lithograph
1-06 WHILE ANGELS WATCH: Walpurgis-Night
1-07 ABNOCTO: Arcane Knowledge
1-08 COTTON FEROX & GENESIS P-ORRIDGE: Psychic Scent
1-09 ATRIUM CARCERI: Abra Cad Abra
1-10 TRANSFAGULA: They Eat Their Young
1-11 BELBORN: Stern
1-12 PSYCHONAUT 75: Liber AL vel Legis
1-13 ZA FRUMI: Aiwass
2 Disc
2-01 HADIT: Auf Den Zinnen
2-02 EXCEED: Secret Name
2-03 GYDJA: By A Secret Name
2-04 4TH SIGN OF THE APOCALYPSE: Sucking Face With Aiwass
2-05 THE CIRCUS OF THE SCARS: Aleister, Aiwass, & Infek (On the Airwaves)
2-06 3LCF: I Was
2-07 AH CAMA-SOTZ: Death Is Forbidden
2-08 CHAOS AS SHELTER: The Beauty Of The Beast
2-09 THIS MORN' OMINA: The Manifestation of Nuit
2-10 ARTEFACTUM: Lapis Lazuli
2-11 SATORII: Another Prophet Shall Arise
2-12 OSSASERPIA: Donkey Fell Eyesleep

Strictly limited edition of
418
hand-numbered copies
8-pages A5 booklet in top-notch paper
incl. A3 poster and packed in black-box with printed cover.

---
MORE INFO & BUY ONLINE (in Czeck language)
We have some copies of the cd, so you can also contact us directly


---